The historical BAL Theater located in San Leandro California is a community venue that was built in 1945. It is an 800 seating capacity venue that accommodates events, concerts, movies, and performing arts theater. BAL theater was billed as the Bay Area's most modern theater, Dazzling and Lavished when it opened on July 1, 1945. The theater included a replica of the sidewalk at Grauman's Chinese Theater in Hollywood, complete with hand and footprints of Hollywood Stars. Read more
PARKING
Parking is not available at this venue but there are surrounding public street parking around the theater on East 14th street and Bancroft Ave. and public transportation options available like the B.A.R.T. The Bay Fair Mall Bart Station is within walking distance of the theater and the AC Transit Routes 1, 40, and 89. The AC Transit R1 Bus is a direct connection from Berkeley to the front of the theater. Read more
Please be aware of the General Rules, Regulations, and Policies imposed by the HISTORIC BAL THEATRE.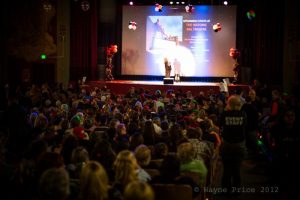 COVID POLICY AND GUIDELINES:
No Mask, No Entry. Face Mask must be worn at all times while in the venue.
Security will be doing contactless temperature checks at the door. 
Please bring proof or self-testify that you are vaccinated. You may also bring a negative covid test or self-testify that you are covid negative.
Self-test kits are available at Walgreens and CVS. 
If you don't feel well, please don't come. BAL Theater wants everyone to be safe and feel safe while enjoying the show.
GENERAL RULES:
All patrons are subject to Bag Checks, security searches, security PA Downs and Metal Detection Scans.
No Outside Food, Candy, or Drinks are allowed
Turn off cellphones or put on vibrate
NOT ALLOWED

backpacks
large bags,
large purses,
weapons of any kind
bottles,
cans,
chewing gums,
professional Cameras
recording Equipment 
smoking
animals unless licensed service animal with proof
talking or texting
video or audio equipment
dancing or standing in the aisles
chains
markers
 ins and outs
babies in arms
baseball caps
YOU CAN ALSO PATRONIZE THE LOCAL RESTAURANTS AND BUSINESSES SURROUNDING THE HISTORIC BAL THEATRE BEFORE AND OR AFTER THE EVENTS. THEY ALL HAVE LARGE PARKING LOTS.
Local Businesses surrounding the BAL Theater:
Bayfair Mall
Tito's Mexican Restaurant
McDonald's
Salvadorian Bakery
Fat Fish
Rickys Sports Bar
Harrys Hofbarau
CVS/Pharmacy
PEP Boys
Burger King
Chili's
Joe's Pho
Starbucks
and more
Hotels and Accommodation nearby BAL Theater
Oakland Airport Executive Hotel
Budget Inn
Hilton Garden Inn Oakland/San Leandro
Holiday Inn Express Castro Valley, an IHG Hotel
Comfort Inn, Castro Valley
The Marina Inn, San Francisco Bay
Premier Inn and Suites
Rodeway Inn & Suites
Harris Motel
Super 8 by Wyndham Hawyard Downtown
Commodore Hotel