The event is expired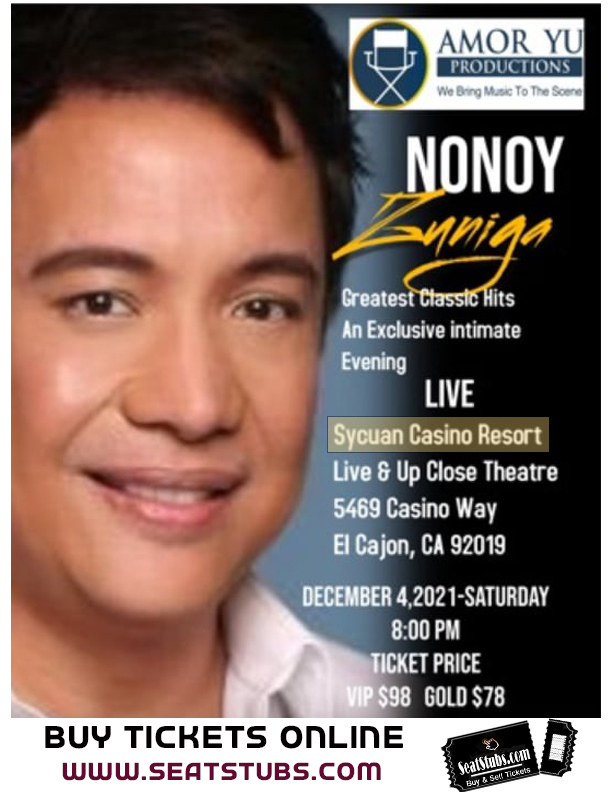 NONOY ZUNIGA Live In Sycuan Casino Resort DECEMBER 4, 2021 Buy Tickets
VENUE: Sycuan Casino Resort – Sycuan Casino Resort, Casino Way, El Cajon, CA, USA
Event Details:
Date and time
Sun, December 4, 2021
8:00 PM
CONCERT VENUE
Sycuan Casino Resort
5469 Casino Way
El Cajon, CA 92019 United States

TICKET PRICES
VIP $98 W/ PHOTO OP
GOLD $78

Must be 21 or older with valid I.D. to attend this event.
#NonoyZuniga #NonoyZunigaSycuan #NonoyZunigaTickets #NonoyZunigaTourDates #NonoyZunigaSanDiego #NonoyZunigaSycuanCasinoResort #NonoyZunigaConcert #NonoyZuniga2022
NONOY ZUNIGA BIOGRAPHY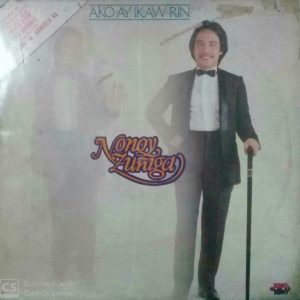 Nonoy Zuniga or Zeno Zuniga, his real name, is a popular music artist in the Philippines in the 70s and 80s. He is a physician who has a passion for music. He started his music career in the early 70s singing folk songs then later joined a disco band in 1975 until 1980. He was among the first batch of the 11 band members of the Family Birth Control Disco Band during the Martial Law. They performed soulful and funky music that made disco-goers dance and enjoyed the beats. The band was one of the top performers of popular hotels and clubs like Manila Hotel, Holiday Inn Hotel, Westin Philippine Plaza, and the Bayside.
Due to the civil unrest happening in the Philippines during the Marcos Regime, he lost his leg when the bomb exploded at the comfort room of the Westin Philippine Plaza Hotel while he was changing his outfit before performing at the Siete Pecados lounge that happened on October 4, 1980. He stopped performing because of that incident.
1981 was declared as the International Year of the Disabled Persons by the United Nations, a year after he lost a limb. Nonoy Zuñiga was chosen to interpret a song during the fourth Metro Manila Popular Music Festival. The song "Ako Ay Ikaw", a composition to honor the disabled persons in observance of the International Year of the Disabled Persons was offered to Zuniga. He was a fit to sing that song which needed a disabled artist since he was already a disabled person at that time.
He was at first hesitant to accept the offer because he already decided to quit his passion for music after he realized that music was not for him. But later, he was convinced to perform and represent the disabled persons in the Philippines and the world, not knowing, that performance could soon change his life and his career, that made Zeno Zuniga, a Nonoy Zuniga in the days to come, to years and to 3 decades as of the writing of this article. Continue Reading