The event is expired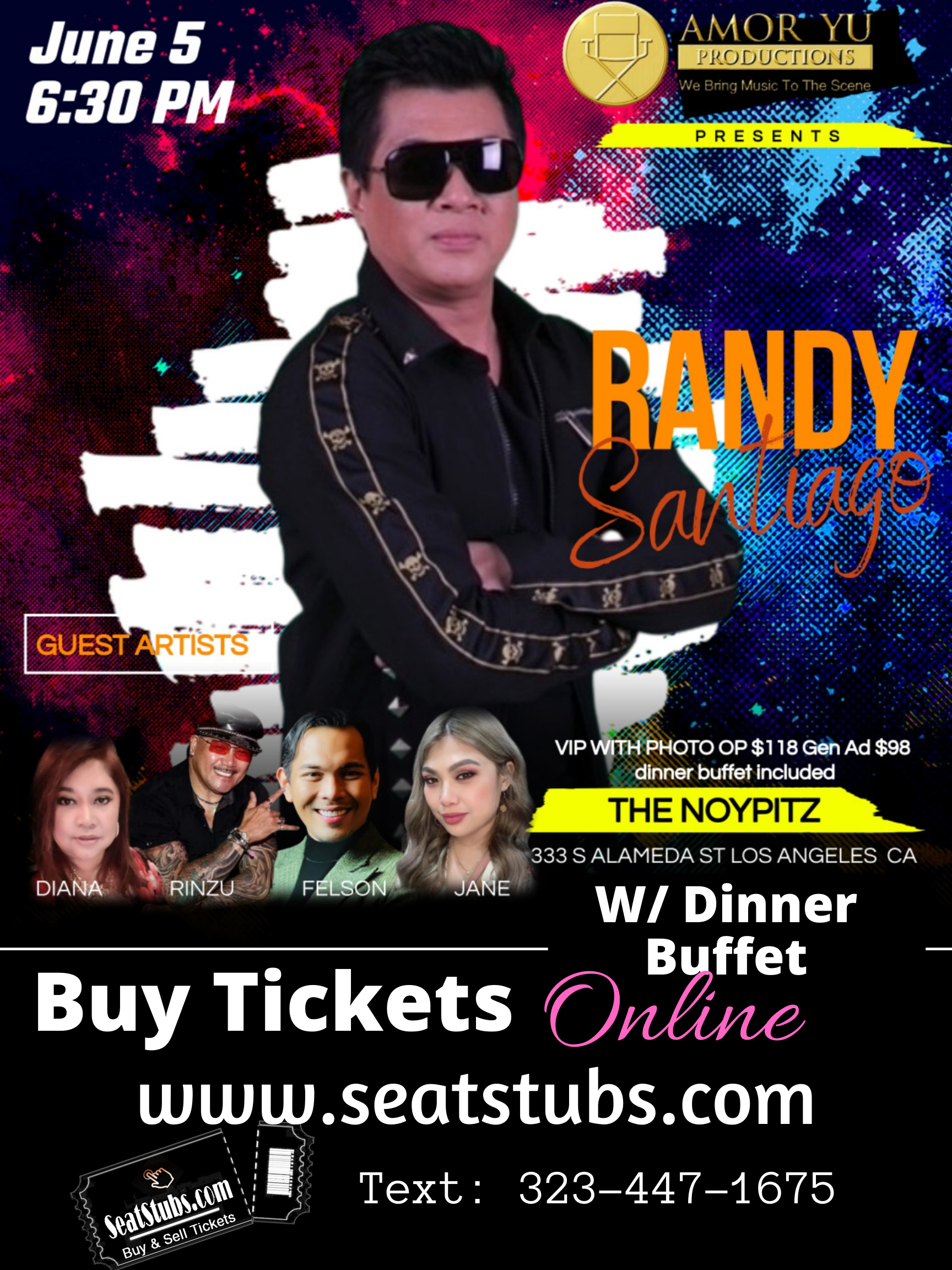 Randy Santiago Live In Noypitz Los Angeles June 5, 2022



Randy Gerard Legaspi Santiago (born November 26, 1960) is a Filipino actor, comedian, television host, singer, songwriter, producer, director and entrepreneur. He is the older brother of Raymart Santiago, Rowell Santiago and Reily Pablo L. Santiago Jr. He graduated from De La Salle University in Iloilo City, Iloilo Province, Visayas, Philippines.
As an actor, Santiago has acted in movies such as Paikot-ikot, released in 1990, Pera o Bayong (Not da TV)! (2000), in which he portrayed Tiburcio, and Taray at Teroy (1988). As a film producer, he has produced movies such as "JR", released in 1983, and "Daniel Bartolo ng Sapang Bato" (1982).
Randy is the brother of film/TV/stage director Rowell Santiago and actor Raymart Santiago, and the son of film director Pablo Santiago and actress Cielito Legaspi.[2]
Randy is almost never seen in public without sunglasses due to lazy eye. Santiago mentioned in an interview in Magandang Buhay that his eyelid condition was a result of a cyst on his left eyelid which first appeared when he was in second grade.
Concert Date and time
June 5, 2022
6:30 PM – 9:30 PM PDT
CONCERT VENUE
Noypitz Los Angeles
333 S. Almeda St
Los Angeles, CA 90013
Tickets Prices
VIP $118 + Fees W/ Photo Op and Dinner
General Admission $98 + Fees W/ Dinner Buffet